Welcome to Davis Monthan Air Force Base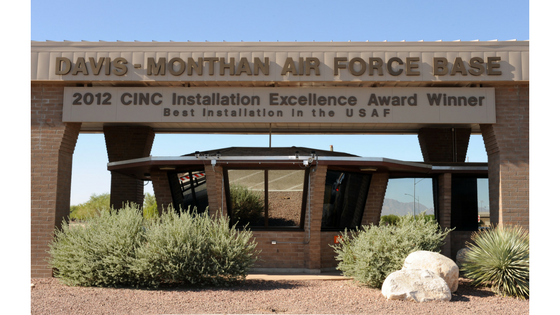 Davis-Monthan Air Force Base is located in Tucson, Arizona. The area has a large population of military and retired personnel.
Davis-Monthan was activated in 1924. Charles Lindbergh officially conducted the base opening ceremonies. The base was named for two local early aviators, who died in separate flight accidents: 1st Lt Samuel H. Davis, and 2nd Lt Oscar Monthan.
The wing's mission is to deploy, employ and sustain expeditionary combat and combat support forces while enabling critical JFACC and HLS operations.
Tucson, Az
Tucson is known for it's blue skies and unsurpassed climate of 360 sunny days a year. It is the perfect place for the outdoor enthusiast. With more than 800 miles of bike paths, Tucson has been ranked by Bicycling magazine as one of the top cycling cities in the U.S. for several years running and is home to internationally known bicycling events such as El Tour de Tucson. Golf is another popular activity with dozens of regional golf courses, including five municipally-owned courses.
Tucson has been continuously settled for over 12,000 years. It celebrates a diversity of c...
Helpful Links